Some people run for exercise. Some run for therapy. Some run for the adrenaline rush, also known as runner's high. Some people run for an activity to do with friends.
This Sunday, September 18th, we're running for cancer research.
I am proudly supporting The Terry Fox Foundation in its ongoing work to fund innovative and progressive cancer research programs by taking part in this event. I will be leading the Town of Mont Royal race with a dynamic warm up before the race begins! If you are local, please join us for this family fun and meaningful event. Come run with us! You can run, walk, bike, or skate! There is a 5k and a 10k route.
Terry Fox had a dream that if everyone donated $1, he could easily raise $1 million for  cancer research.
Any donation helps. The Just Feel it Fitness team has set our goal at $500.
To learn more about this amazing event click here.
I very much hope you will consider sponsoring the Just Feel it Fitness Team in support of our effort, confident in the knowledge that your kindness will impact the lives of so many people living with cancer.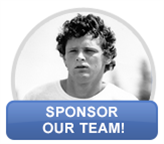 I certainly hope to see some familiar faces out there on Sunday, we'll be running for a reason!
Have a great week,
Meryl